Section 1: Introduction
I am one of those people who can ignore the distractions in a car, train, or plane, and fall asleep in a few minutes. Even if you're not this kind of person, you want to be as comfortable as possible when traveling long distances. Comfort can make or break a trip. I don't know about you, but I've had the unbearable stiff neck or headache kick-in at the end of a trip. To avoid these aches and pains, we recommend finding a travel pillow that will ensure better sleep when away from home. We have researched various products on the market and rounded up a list of the best travel pillows. 
Section 2: Value Section
2.1 Context of Use 
Transportation modes have limited space which often limits our comfort.  Between the tight spaces and long travel hours, most of us end up feeling stressed when traveling. To reduce stress, we have to focus on comfort, as well as on avoiding head and neck injuries when looking for the best travel pillow. In my own experience, I often feel achy around my neck and back when getting off an airplane, especially on long, overseas flights. However, since I started cushioning my neck and head well, I have had fewer problems, even on flights that are over eight hours long. 
Can we all agree that the pillows offered by airlines are not very comfortable? They tend to be thin for most people. Often the thickness of a pillow determines the level of comfort and support that the user enjoys. Low-loft pillows work best for people who have relatively small heads and shoulders.
2.2 Value driven information About Travel Pillows
As you think of shopping for travel pillows, consider the valuable information below on what exactly you need to look out for. 
Cost
Most travel pillows sell for around $50 or less. The price is affordable, but consider the price difference between inflatable and non-inflatable pillows. 
The Loft of the Pillow
The main advantage of inflatable pillows is that they can be adjusted to accommodate the needs of different users. On the other hand, non-inflatable pillows are either high or medium loft and cannot be adjusted.

Inflating the Pillow
It is important to be aware of the process involved with an inflatable travel pillow, it can either be done manually, using a small pump or by blowing air into it. You should be aware of your options so that you prepare accordingly.
Number of Pieces in the Pillow
Non-inflating pillows either have one or two pieces; the two-piece design is more comfortable due to the memory foam. Other features include a washable cover to make the cleaning process.
Machine Washable?
Most travel pillows have a cover that can be removed and washed. If that is not the case, the pillow itself is machine washable. After a few uses, you may find your pillow needs to be freshened up, and knowing how to clean it before purchasing it is important. 
Space 

Getting to know the size of the travel pillow allows you to prepare adequate storage space. Inflatable travel pillows are efficient in this regard because they can be deflated and stored inside your luggage. 
Preferred Sleeping Position
Different pillow shapes will facilitate varying sleeping positions. For example, if you prefer sleeping on your back, then you should check-out the U-shaped pillows. 
Warranty
Some travel pillows come with a warranty of up to two years, and others have shorter periods. If a pillow does not have a warranty, it should have a money-back guarantee or similar arrangement.
Sections 3-8: Review 5 Products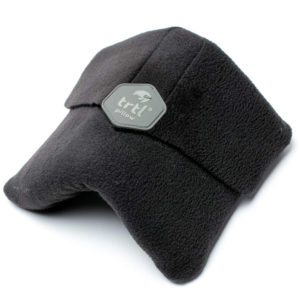 The Trtl pillow resembles a wrap that may be easily mistaken for a scarf. The design is inventive and far better than the U-shaped pillows. The internal support system ensures that your head and neck are properly supported. 
The pillow's hypo-allergenic fleece creates a hammock that cradles the neck and head comfortably. It only weighs 0.29 pounds and can be easily folded up for storage. 
Pros
It is scientifically proven to provide head and neck support: The pillow has a patented internal support system that consists of strong ribbing and soft fleece. 

Light-weight: This pillow only weighs 136 grams.

Machine Washable: You don't have to wash this pillow by hand.  Toss it into the wash, and it will be ready for use again. 

Easy to carry: This pillow can be easily carried in your travel bag as it is half the size of a U-shaped travel pillow.
Cons
One size fits all

Velcro constantly pulling
MLVOC Travel Pillow 100% Pure Memory Foam Neck Pillow, Comfortable & Breathable Cover, Machine Washable, Airplane Travel Kit with 3D Contoured Eye Masks, Earplugs, and Luxury Bag, Standard, Gray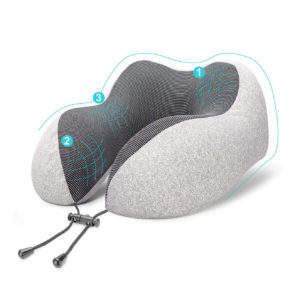 The MLVOC Travel pillow comes with several features that ensure the user has perfect support. The pillow has an adjustable rope lock that allows users to adjust the size and angle of the pillow. 
Pros
Sweat resistant, washable cover: The pillow is covered with super soft magnetic therapy cloth and a sweat resistant fabric which guarantees comfort in your next trip. The case is also machine washable, so getting it ready for use should not be a problem.

The adjustable rope lock:  This rope lock allows users to adjust the pillow size according to their neck size requirements.    
Cons
People who are tall with a longer neck may have a problem using this pillow.
Features and Product Specifications
The pillow's size is 11×9. 2×5. 9 inches, its weight is 0. 6 lbs. 

The MLVOC Travel Pillow comes with a travel bag in which the pillow can be compressed into half its original size. 

The snap strap allows the user to attach this pillow to the luggage backpack.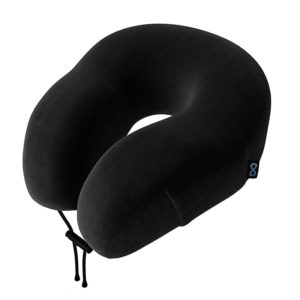 With 100% pure foam, this pillow is ideal for long journeys. It also comes with an adjustable toggle that can be used to loosen or tighten the pillow depending on your needs. The toggle can also be used to attach to your travel bag. It also has a cell phone pocket that keeps your device safe.
Pros
Machine Washable: The pillow has an ultra-plush velour cover that can be machine washed.

Fits Adults and Kids

Ergonomic Design: The orthopedic raised lobe allows the neck and head to lean on the soft memory foam. 

Cell Phone Pocket and other Accessories

The pillow features an elastic pocket that can hold all types of cellphones and accessories.     

Light-weight and Portable
Cons
 Similar to the previous pillow, people who are tall with a longer neck may have a problem using this pillow.
Product Features and Specifications
Package Dimensions

12.1 x 8 x 4.9 inches

Item Weight

14.4 ounces

Shipping Weight

1 pound 

Manufacturer

Everlasting Comfort

ASIN

B06WWFYCSG

Item model number

4332456576

Best Sellers Rank

#2,920 in Home & Kitchen




#7 in 

Neck & Cervical Pillows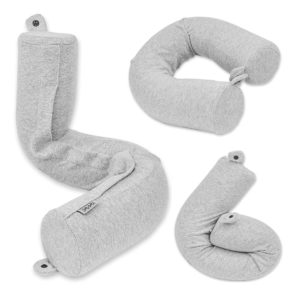 This twistable pillow provides users with custom support because the pillow can contour into different shapes. This provides support to your back, head, spine, and shoulders while traveling. 
Pros 
Machine Washable

This pillow is easy to clean since it is covered with machine washable, breathable cover.

Light-weight and Portable

The pillow is easy to carry since it can be attached to your luggage or backpack. 
Cons
The shape of the foam is off.
Product Features and Specifications
Inventive Design.

The flexible joints in the pillow can bend into different shapes which allow the user to adjust according to their needs. 

Durable Material.

The pillow is made of safe, strong, and soft material that will last for long. 

Breathable Cotton cover.

The cotton cover provides the user with maximum comfort.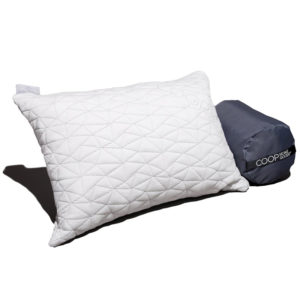 This pillow is ideal for travel and camping, and it combines comfort and luxury in one package. It's also CertiPUR-US, and GREENGUARD Gold certified, which guarantees that you get both safety and quality.
Pros
Compressible Stuff Sack

This pillow comes with a water resistant stuff sack in which the pillow can be compressed to half its size.

Portable and Adjustable

The pillow can be adjusted to different sizes to meet the users needs. 

5-Year Warranty
Cons
Maybe too loose for smaller people.

One size fits all.
Product Features and Specifications
The pillow provides a high level of breathability:  This is because the pillow is made of

Lulltra fabric consisting of 40% viscose rayon and 60% polyester.

Easily Packable and Compact:  When the pillow is compressed, it is 10×6, and when it expands, it is twice this size.

Easily Adjustable:  The pillow can be adjusted into different sizes to meet the user needs.

Dimensions: 19″ x 14″ Uncompressed size, 10 "x6" Compressed size

Weight – 36 oz including stuff sack

Machine Washable:  The pillow is machine washable, although you should not use fabric softeners or bleaching agents. 

Thermo-regulating Fabric: This pillow is made using the Lulltra fabric material, which ensures a comfortable, cool, and continuous sleep.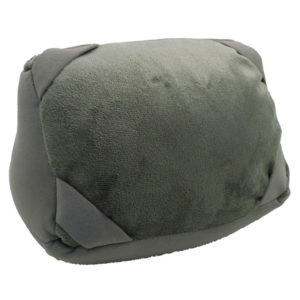 This pillow provides support and comfort while also allowing you to fit iPads and other electronics such as Tablets. The pillow stand can fit devices of up to size 10". However, for best fit, you can use devices that are (7.5″ x 9.5″). 
Pros
The pillow is 2-in-1 and has a tablet holder

Has an elastic band for hanging

Has storage pocket for phone, keys and other items.
Product Features and Description
Made of microfiber material

The size is: 11″ W x 11″ H

iPad/Tablet Stand Size: 9″W x 6″H

Compatible with 10″ tablets that are approximately 9.5″W x 7.5″H (non-widescreen) including full-sized iPads (1/2/3/New), iPad Air (1/2), Samsung Galaxy Tab 10.1.
| | |
| --- | --- |
| Product Dimensions | 11.2 x 11.1 x 6.3 inches |
| Item Weight | 8.8 ounces |
| Shipping Weight | 8.8 ounces  |
| Department | Unisex |
| Manufacturer | AMC |
| ASIN | B00GBUJ2HK |
| Item model number | 33-JO-Q200-GRY |
The J-Pillow, which won the "Best Consumer Invention at the British Invention Show 2012/13," is an ingenious invention. Comparing this product with the other pillows, it provides both neck and chin support because it has a sprouted arm with a U shape. The J supports the head from beneath the chin, and the pillow is made using high-quality 3D filling with a plush cover that is very comfortable. This ergonomic design ensures that you get full support as you sleep. 
Pros
Machine washable

The pillow can be easily cleaned using a machine.

Durable 

The material used in making this pillow is very durable.

Snap-loop fastener

The snap-loop fastener allows you to attach the pillow on your luggage.
Cons
The cover is not removable

The cover is not machine washable. 

Does not have a snap 
Product Features and Description
| | |
| --- | --- |
| Product Dimensions | 9.5 x 10 x 5 inches |
| Item Weight | 11.7 ounces |
| Shipping Weight | 12.8 ounces  |
| Manufacturer | Cabeau |
| ASIN | B07G5KHQGH |
| Item model number | TPCL3037 |
Section 9: Conclusion
The everlasting comfort 100% pure memory foam neck pillow takes our top spot based on the value it provides. The entire package covers most of your comfort travel needs. For instance, the kit comes with earplugs, a sleep mask, and an ultra-plush velour cover. 
The key features that set this pillow apart include:
It has a toggle which tightens or loosens depending on the user needs.

The toggle provides you with the option to attach it to the backpack.

The memory foam provides users with a personalized sleeping experience. 

It has a cellphone pocket to keep your phone safe.

The pillow comes with a Lifetime replacement guarantee.
The above product description clearly shows that this pillow has all your travel needs in check, coupled with an ergonomic design. This goes a long way to prove that this product is indeed the best.